Ebay Exhaust Fitment - ??
08-12-2014, 09:07 PM
Join Date: Oct 2012
Location: Iowa
Posts: 23
Ebay Exhaust Fitment - ??
---
My Ride
: 2002 HONDA ACCORD SE [4-Dr Sedan] 2.3L 4-cyl Engine Code F23A1-4 VTEC
Hey all. I have what I'm sure seems like a stupid question, but I hope you guys can chime in and confirm for me.
I was under my Honda this past weekend and noticed that my downpipe flex section was going bad again. I figured instead of welding another one in or trying to find a stock replacement, I'd just browse Ebay for a cheap header to replace my stock exhaust manifold and downpipe.
Now, I'm not looking for a performance bump or a louder exhaust - just a cheap and easy alternative to fixing the flex section (again). Figured for the $82 this one was listed for, it's pretty damn cheap and just takes a bit of my labor.
LINK:
Stainless Steel Exhaust Header 98 02 Honda Accord CG CG1 CG2 2 3 4CYL F23 F23A | eBay
So time for my stupid question
: When I put in my car info on ebay, it says not compatible - but my ride has the F23A 4-Cyl, so it shouldn't be an issue, right?
Also, I would guess this is a direct bolt in. I'm sure some of you guy have some experience with this exhaust, is there anything I should know about it or any modifications that are needed to install it?
Thanks in advance for any info or confirmation.
---
Last edited by Mopar McNeer; 08-12-2014 at

09:10 PM

.
08-13-2014, 09:19 AM
Join Date: Oct 2012
Location: Iowa
Posts: 23
---
Correct. Sorry - I just copied that off the Amsoil site and forgot to clear off the -4. Thank you for clarifying though JimBlake.


To show you how little I know about Honda's, I don't even know the difference between a F23A1, F23A2, F23A5 - I would guess there would be manifold differences or something.


Again - just looking for a cheap exhaust alternative. I know the $80 Ebay header/dp combo's are cheap, often poorly welded, and made of thin metal - but its an inexpensive alternative to purchasing a flex section and welding it in (I currently do not have a welder, so I would have to outsource the installation of it).


I was just hoping that this kit would bolt up - I can handle minor tweaks (lengthening o2 sensor wires, etc) just as long as it actually bolts up ok.


I see that the unit has two o2 sensor option locations. I would want to use the lower location after the 2-1 collector (after the flex pipe) as I don't think having a single cylinder on the up-stream o2 would be a great idea. Which is why I was guessing that I might need to lengthen the o2 sensor wiring. Didn't know if any other mods were involved.


Being that I'm budgeting on this and trying to be thrifty, I didn't want to order this kit and find out that it didn't bolt up and basically be out the $80.


Looking at the "compatible" vehicles list on the auction, when I insert my vehicle info, it says that my 02 Accord SE 4 Door is not compatible - but it lists other year 4 Door SE models and even a 02 "value package" 4 dr Sedan (whatever that is).


Didn't know what the differences were on these that would make my 4 Dr SE Sedan no compatible. Any input is appreciated.
08-13-2014, 09:51 AM
---
08-13-2014, 11:10 AM
Join Date: Oct 2012
Location: Iowa
Posts: 23
---
Thanks TexasHonda - I appreciate the link and info. I checked out both options.
Price shipped on the eBay one puts it at around $120 (assuming the reserve is closet to the BIN price). Also, per your suggestion, I hit up Rockauto again to look at the same pipe and other related options and costs.
The Walker PN 53552 lists there for just $67.79 + Shipping (nice and budget friendly). Interestingly enough though when I viewed the descriptions, the SE model is not listed for this specific PN. So I clicked on the INFO icon and pulled up the Walker PN Exhaust list for the 98-02 Honda Accord. It shows the 53552 being for cars with manual transmissions.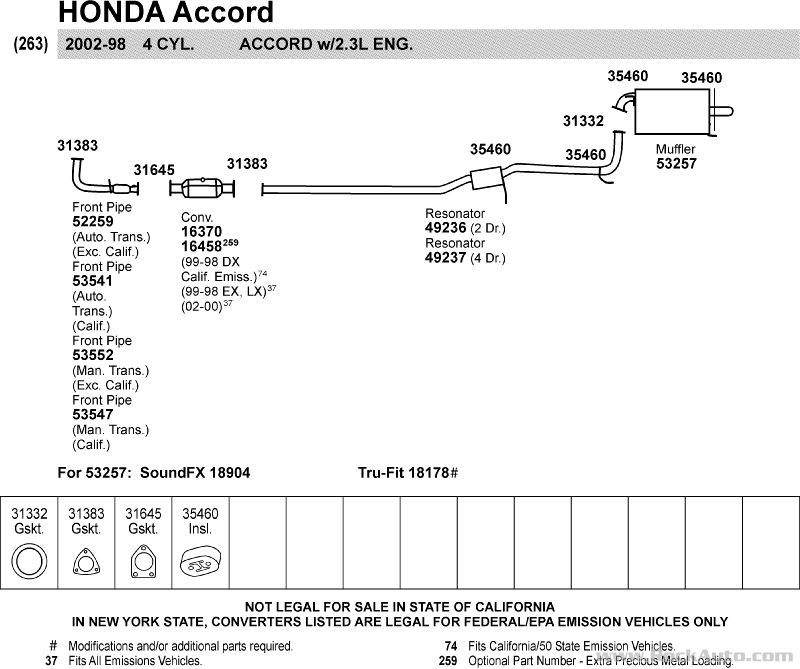 Looking at that list, the correct pipe would appear to be the
52259
instead (I previously failed to mention that my Accord was an Auto Trans car). That puts the cost at $109.79 + shipping (even more on eBay).
If that is indeed the part I would need, it leads me back once again to the eBay Header/DP combo as being the least expensive option for repair (not taking into consideration my time for labor obviously).
Enjoying the discussion and research on this topic. Any more input/advice/etc is appreciated.
ALSO....
On a related note in regards to my engine designation - can anyone tell me how to tell with F23A model I have: be it 1,4, or 5? Or what does last number mean? I'd like to get a solid confirmation on which I have and what the differences between those number designations are.
08-13-2014, 03:00 PM
---
The catalytic converter length may be reason for different options.

I googled Walker 53541 and found prices as low as $63 (summit racing). Watch those S/H costs though. Amazon had part for $70 w/ free shipping, looks the best.

good luck
08-13-2014, 03:10 PM
Join Date: Oct 2012
Location: Iowa
Posts: 23
---
Thanks for checking it out for me.


Well - if I order that pipe and find out that it's too short (due to different length Cat), it really wouldn't work out. And you're probably right on.
Just wish I knew for sure because the price is certainly right!


Ugh!
---
Last edited by Mopar McNeer; 08-13-2014 at

03:16 PM

.
08-13-2014, 03:41 PM
Join Date: Oct 2012
Location: Iowa
Posts: 23
---
Exactly. I'll have to research those oe style pipe options more and see if I can get measurement and flange images to see if they might work or not.


In the mean time...


Any ideas about how the last digit on the engine designation works?


And, does anyone with a 02 SE 4Dr have any experience with the eBay combo and it's fitment?