Newest member to the site... (PIC'S!)
01-10-2006, 09:34 PM
Newest member to the site... (PIC'S!)
---
Name's Robby, 24, proud parent/family guy and just recently discharged from the marines. I bought my car brand new off the lot in 2001 (2002 Accord Coupe EX) with no intentions to modify it. I let my ex drive my car one day, and you know how that goes... lol... she wrecked the whole front end, and that set off a new beginning to fix my ride. Considering my car is a 4-banger, I would do a few engine mods but concentrate more on getting my ride to SHOW status.
Since then, I've went through numerous kits and wheels to get my car to stand out from the rest. Military obligations and family life made it a little hard to work on my ride, but 4 years later I was able to get my ride where I want it to be. My military service just recently ended so that gives me more time to work on my ride. Plus I just recently joined Team Showcase so I'm ready to take my ride to the next level and do big things with the team. My car is an endless project, always adding new things.
I've got a lot planned for my ride for new year so stay tuned... much respect to all the daily driven show cars out there, plus I live in an apartment so no garage for me.. LOL... with all that said here are my mods and pic's... enjoy...
INTERIOR:
-AC Autotechnic reverse indiglo gauges
-Aluminum gauge bezel
-Autometer carbon fiber volt meter gauge
-Autometer carbon fiber water-temp gauge
-Autometer dual gauge pillar pod
-Diamond plate floor mats
-Katzkin two-tone Genuine Leather interior
-Nokya gunmetal pedals
-V6P Polished climate control *****
-DIY blue door panel lights
-DIY blue dome lights
-DIY blue LED in vents
-DIY blue LED dash conversion
-DIY blue LED's under dash
-DIY painted chrome-aluminum dash trims
-MOMO Leather automatic shift ****
-MOMO Leather performance shift boot
-MOMO Leather two-tone shoulder pads
-MOMO Leather Pit-Stop E-brake handle
-MOMO Stealth automatic pedals
-MOMO T2000 Floor mats w/ black leather inserts
EXTERIOR:
-Black housing headlights
-Black Widow rear
-Custom painted tail-light center
-C-Wings CF bolt-on eyelids
-DIY blue underbody LED's
-Eurolite super white bulbs
-JT type M spoiler
-Limo tint rear windows / 35% front windows
-R34 front (octane)
-R33 sideskirts
-Racing Hart 18" CX's
-Sparco hoodpins
-VIS OEM Carbon Fiber hood
-VIS one-piece Carbon Fiber splitter
ENGINE:
-AEM SR intake tube
-DC sports 4-2-1 ceramic headers
-Helix throttle body spacer (old noisy version)
-K&N cone air filter
-Mugen oil cap
-Mugen radiator cap
-NGK spark plug wires
-NGK Iridium plugs
-Optima yellow-top battery
-Tsudo universal performance mufflers & Y-pipe
-V6P grounding kit
-V6P polished battery terminals
SUSPENSION:
-Hawk Performance brake pads
-Neuspeed polished front strut bar
-Perilli Pzero Nero 225/40/18 tires
-Racing Hart 18" CX's
-SPC rear camber kit
-Tokico coilover kit
I.C.E.
-Alpine head unit
-Pioneer 6.5
-Pioneer 6x9
-Kicker tweeters w/crossovers
-Kicker Solobaric 12" L7 sub
-Kicker custom vented subwoofer box
-Kenwood 800W 2-ch amp
-Rockford Fosgate 500W 4-ch amp
-Tsunami 1.2 farad cap
-Tsunami power cables
-Tsunami distribution blocks
-Viper alarm
FUTURE PLANS:
-Brembo slotted rotors
-Carbon fiber pillers, door sills, etc....
-Custom bolt-on fender flares
-Custom Kicker system enclosure
-Custom R34 front bumper
-Engine accessories (tie-down, looms, etc...)
-Lambo doors
-Type R grill
-VIS carbon fiber canards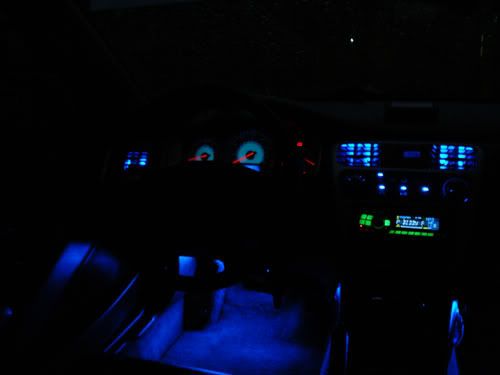 01-12-2006, 04:05 AM
RE: Newest member to the site...
---
Hi New member, love that look you put on your ride...very, very nice...Make sure you enter your car in the ride of the month contest..

Again Welcome In and Thanks For Serving The Country [sm=patriot.gif]

I'll delete that 2nd post for you...

WheelBrokerAng

[IMG]local://upfiles/22/3B57C2AA0D0246A597C604EE4C1C7AD6.jpg[/IMG]