Honda Accord 2012 USB support please.
12-29-2011, 12:54 AM
Join Date: Dec 2011
Posts: 3
Honda Accord 2012 USB support please.
---
Hello, i wanna say im new to the forum ive exhausted all of my resources on getting my external HD to work in my 2012 Honda Accord Base Model any feed back would be great!
What i wanna do is play all the music i have from the Hard Drive (Toshiba 500GB USB powered)
i have Read the manual, it stated it supports only FAT32 format, which is fine, but im tired of changing out Flash drives , ive seen previouse posts similar to this and no one can seem to figure out why their Zune other players arent working. as mass storage devices my android phone works perfect as do all my flash-drives so if anyone could give me any suggestions of fixes it would be greatly appreciated.
What if done so far to attempt to get this to work
1) Left the HD as NTFS (Dash said : Unsupported )
2) Formated entire HD to FAT32 i thought i was onto something but (Dash Stated : No Songs) but there were songs on there!
3) Made Sub Folders (No Change)
4 Partitioned the Drive with 30GB being FAT32 and the Rest NTFS ( Dash Stated : Unsupported )
5) Made the FAT32 The primary/boot (No change)
the thing that drove me crazy is a XBOX 360 works the same exact way as the car and it played all my media just fine and all my songs are set as MP3s.
sorry for all the extra detail but i really wanna figure this out, and HONDA does not seem to know a thing after emailing them several times, and i also have tried multiple HDD's all my flashdrives are FAT32 and work fine...
12-29-2011, 08:36 AM
Senior Member Stereo Guru..Almost A Mod :)
Join Date: Feb 2011
Location: louisiana
Posts: 862
---
Are you trying to make a zune work or a hard drive. I saw where you said harddrive. but then you mentioned a zune not working. A zune is different than most other mp3 players. it uses a different type of interface. due to it being completely different and with the popularity of the Ipod most, if not all, stereos are made to accept the ipod. In fact I do not believe there is even stereo out there that works with the zune.

now If you are using the hard drive, your files will need to be the right format. the most common are mp3 and wma. make sure that your files are that file type and see if that helps.
12-29-2011, 07:15 PM
Senior Member Stereo Guru..Almost A Mod :)
Join Date: Feb 2011
Location: louisiana
Posts: 862
---
the only thing I can think of is maybe the vehicle does not put enough power out through the usb to power the hard drive. It may not be able to power it properly. where as your phone has its own power source and the flash drive does not need one. I really dont know if this is it, but it is just a thought I had. If your formating is correct then it has to be an issue with the hard drive. probably more likely a hard drive issue than a issue with the car.
12-29-2011, 10:42 PM
---
you have a couple of issues:
1. some devices will not read FAT32 partitions above a certain size. we need to figure out what the maximum partition size is. but the HU will not be able to switch between partitions. so you'd be limited to that size (which may be smaller than modern thumb drives). so you'd make a single partition and the rest won't be allocated.
2. certainly, the device may be too much to power. you can buy USB power insert harnesses and power the device yourself (either battery or with a 5.1VDC adapter) - but the HU still needs to see a load to know it is connected. using large drives gets tricky and isn't supported by most head units (factory or aftermarket). you can get cables like this that have power pass on the second USB-A connector for this purpose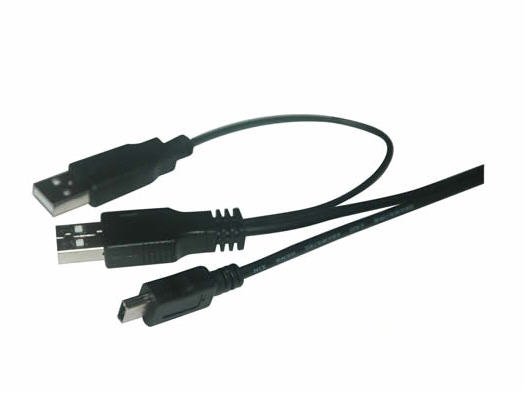 3. it will be S L O W. reading from a large HD is much slower than solid state memory.
since your songs can be read from a thumbdrive you know your format is acceptable.
a friend and i have been working through this with Pioneer. even the 250GB was too much to power and then with the power bypass it took too long for the HU to read. he's just using 64GB thumb drives now.
---
Last edited by keep_hope_alive; 12-29-2011 at

10:53 PM

.
12-29-2011, 10:56 PM
---
note that manufacturers really don't have incentive to allow reading of large HDD's - the industry wants to squash pirated music in general. i've yet to meet anyone with a HDD full of music that actually paid for all of it. i've been ripping my hundreds of CD's into 320kbps mp3 and lossless formats for my personal tastes... but i have just as much music i've received from friends.

having our entire music library at our driving fingertips is a much sought-after thing. that is why people build car PC's.
12-30-2011, 10:39 PM
Join Date: Dec 2011
Posts: 3
---
i really appreciate all the feed back guys thanks alot! i did notice it only supports 32GB and it does notice it runs slow. it just boggles me how a 64GB Fat32 flash drive works but a hard drive wont im assuming it has to do with it not being able to select the correct partition. (as posted previously) but anyway thanks alot and have a great new year guys!
Thread
Thread Starter
Forum
Replies
Last Post