New head unit, but the speakers don't work? 97 Accord.
07-31-2012, 03:01 PM
Join Date: Aug 2011
Posts: 5
New head unit, but the speakers don't work? 97 Accord.
---
A few months ago, I was given a head unit from a relative to put into my 1997 Accord LX. The head unit is a Pioneer DEH-6800MP. Before this was installed, the stock unit in my car didn't work for whatever reason. Sometimes if you were to drive over a bump, or go through a series of hills, it would kick on for a little bit and then it would go out again.

I ordered a wiring harness from Crutchfield, and wired up the new head unit according to the manuals I read online. Once it was wired up, the two front speakers worked, but the rear decks did not. I wasn't concerned with this, as I planned on replacing the speakers anyways. But now, none of the speakers work. I just turned the car on, and adjusted the radio, and no sound came from the speakers. I've double and triple checked the connection between the harness and the head unit, and everything is wired correctly. Could it be something wrong with the connections to the speakers themselves? I'm new to the audio scene for sure, and any help would be immensely appreciated.
07-31-2012, 06:38 PM
---
first you need to verify if you have an external factory amp as that would be the most likely issue.

it could be that the rear speakers leads/wires have been damaged from stuffing things into the trunk. if they short out, the HU amp will shut off to protect itself.

start by disconnecting the rear speakers. make sure the wires aren't shorting out.

next, how did you make connections behind the head unit? did you use proper crimp connectors?
07-31-2012, 11:02 PM
Join Date: Aug 2011
Posts: 5
---
The connections were not made with crimp connectors. We had some connectors lying around that I used. Not sure what they're called, but you put the two leads into separate slots, then you press down on this little orange capsule, and it releases a gel like material that conducts the current. Are these not adequate? What would the alternative be that I would need to purchase? We had a box of these connectors on hand so I used them out if convenience.
07-31-2012, 11:35 PM
---
i believe the gel would be an insulator and there is a small metal tab that pierces the wire insulation and conducts current. these are typically used to make splices in phone lines or where subject to moisture. it is possible they are not conducting well as they are pretty specific as to the type of wire to use.
you can get a typical set of butt connectors and a crimper at any autoparts store. better than just a crimper, if you can find one of these, you'll love it forever:
Irwin Self-Adjusting Wire Stripper
I personally use the Radio Shack version. Been using these for almost 15 years.
these crimp connectors can be used:
i'll also use these, they tend to be more reliable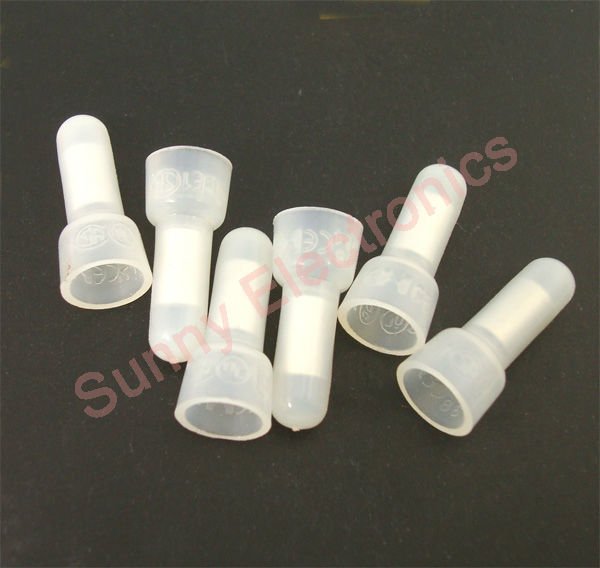 08-09-2012, 02:07 PM
Join Date: Aug 2011
Posts: 5
---
Well, I think this may be the bad connectors between the harness and my head unit. Unplugging both of my rear speakers did nothing, and for some reason the front right speaker decided to come on again. I tapped the screen of the head unit, and it went out. This leads me to believe it's just the way I connected the wires.
Thread
Thread Starter
Forum
Replies
Last Post