'01 Accord Sedan Complete Car Audio Install
04-20-2008, 07:15 PM
Join Date: Apr 2008
Posts: 113
'01 Accord Sedan Complete Car Audio Install
---
I've gone through several setups and finally I have decided on what I want, which is qutie amazing for friends that know me because within the past year and a half I've gone through as many as 10 different setups changing things here and there. I'll be posting what I've posted in car audio forums of my build log so the verbage I use is from when I had done things.
First, I'll list what I'll be running.
Headunit: Alpine W200
Mids & Tweeters: Zapco Competition (6.5")
Subwoofer: 18" TC Sounds TC-5200 (Quad Voice Coil)
Fronts Amp: Alpine PDX 4.150
Sub Amps: 4 Alpine PDX 1.1000 (1 per coil)
Processor: Alpine H701
Navigation: Alpine Blackbird B100 via dock connected to the W200
Enclosure: Wedge style, approximately 2.5 - 3.5 cu. ft. sealed
Power and ground wire: Kicker Hyperflex
RCA's: Custom (Canare cable and Tara Labs RCA)
Optical Cable: Tara Labs
Batteries: Odyssey PC 1200 under hood, Odyssey PC 2150 in trunk
Deadener: Second Skin
- Trunk lid - 1 layer damplifier, 3 layers (soon to be 4 or 5) of Spectrum
- Trunk walls and floor - 3 layers of Spectrum
- Top of rear deck - 3 layers (soon to be 4 or 5 layers of spectrum)
- Bottom of rear deck - 2 layers (soon to be 3 or 4 layers of spectrum)
- Front doors inner portion - 1 layer of Damplifer, 1 layer of Ultra Kill, speaker tweaker pad
- Front door outter portion - 1 layer of Damplifier, 1 layer of Rattle Pad
I really don't know how long this will take me and things take longer than I expect so I have no set completion date. Some of the work has been done already, but a good part hasn't.
I will be getting the Zapco CK 16.2 set on Friday and hopefully I can get them to fit. I will more than likely have to cut my speaker grill off the door panel and fab up my own grilles since depth will more than likely be an issue. Right now I want to get the design ready to go, which it pretty much, just need to make the RCA's, and once I get the enclosure built, all that is left is install.
Here is my layout for the amps and processor. As shown in the first pic below, this is how it will look. However, I will have 2 amps stocked on the bottom portion. Those will be the 1.1000's while the one on the top to the left of where the processor will be is the 4.150. I have just barely enough room for everything to fit and barely enough room for clearance.
Test fit of the RCA's is shown below. I will be daisy chaining the 1.1000's.
04-20-2008, 07:30 PM
Join Date: Apr 2008
Posts: 113
RE: '01 Accord Sedan Complete Car Audio Install
---
Just started making one of the RCA's and it didn't work. Seems like the pin on the RCA end is not going in. The clear dielectric is very stiff. I have my heat gun in the garage and it's too late to go out. I'm thinking about heating it and then putting the RCA end on, but not sure if that will work. Another idea I have is using a thumbtack and heating the metal portion and pushing it into the dielectric to create a hole and then putting in the RCA end. If neither of these work, I'll have to find some other coaxial cable that has a softer dielectric. The one I currently use for home will work, but it is thin and I will need a couple layers of heat shrink to make up for it. If anyone has any ideas other than the ones I mentioned I'd really appreciate it. I really don't want to buy more wire and let 50' ft. go to waste.
04-20-2008, 07:33 PM
Join Date: Apr 2008
Posts: 113
RE: '01 Accord Sedan Complete Car Audio Install
---
Started doing some more planning. Here is where the battery will go. As you can see it is uneven.
To solve this, I found a scrap piece of 3/4" MDF and it did the trick. It's pretty even. There is a block of wood for comparison.
Here is how the battery will be placed. I will be making a box for it and bolt it to the chassis.
Onto the doors. I will need to use 3/4" and possibly 1" baffles instead of the 1/2" baffles that are currently installed once I get the Zapco's in and the speaker will be pushing up against the grill so I have to take them off. I wish it were clips that were holding them in place, but the clips were actually melted, thanks Honda (bastards). I used a hot razor blade to cut them and popped them off with a screwdriver. Some pics as shown below.
The tape measure shows the melted clips.
I'll be needing to make a custom grill, though I'm not quite too sure how to go about that, so any suggestions would be great. Here's how it looks with the P.O.S. stock mid.
And for the bass heads, captured a quick video. The enclosure is actually 2.5 cubes sealed net and you will hear an odd sound in the video. I have a couple air leaks and I sealed those up after taking the video. The rattle you hear comes from some foam tape I put on a metal bar that attaches to the bumper. It actually created rattles so I will be taking that off and replacing it with rattle pad. As mentioned in the video, it is seeing 1,000w. The enclosure that I will be using will be about the same size, possibly .5 - 1 cu. ft. larger and will be a wedge style. It will also face into the cabin and I'll be sealing it off. It will also see 4 times the power.
In comparison to when I had the sub running off 3kw and in 5 cubes sealed, I lost a lot of lowend, but it gets pretty loud off just 1k.
http://youtube.com/watch?v=wK--xWab1eE
04-20-2008, 07:36 PM
Join Date: Apr 2008
Posts: 113
RE: '01 Accord Sedan Complete Car Audio Install
---
Since it might take up to 3 weeks to get the proper wire that I need for the RCA's, there really is not much I can do so I'll entertain you guys with some pictures of previous work I have done to the vehicle, such as deadening the doors, installing the navigation, and anything else I come accross in my old pics.
I will be using butt plugs (try not to laugh) for connecting the TR-7 bypass to the W200 since I have them twisted and electrical tape around. I will also be re wiring my Ai-Net cable since it partly goes through the center of the vehicle and along the side, I was in a hurry at the time of the install. The current optical cable will also be replaced so I'll be doing those two in the meantime as well.
I'll start with the doors. I have a picture somewhere of how the factory door looks without the panel. There was a plastic sheet covering the door so I took that off and also took off some of the tacky dough, or whatever was used on the door to keep the plastic in place.
One layer of Damplifier on the inner door.
One layer of Ultra Kill over the Damplifier.
Speaker tweaker pad over the Damplifier.
One layer of Damplifier on outer portion of the door.
One layer of Rattle Pad over the Damplifier. It looks a bit different now since I had issues of the door panel clips staying on. I also used velcro to keep the Rattle Pad in place.
Onto part of the trunk and the trunk lights. Here is a before picture, quite dirty as you can see.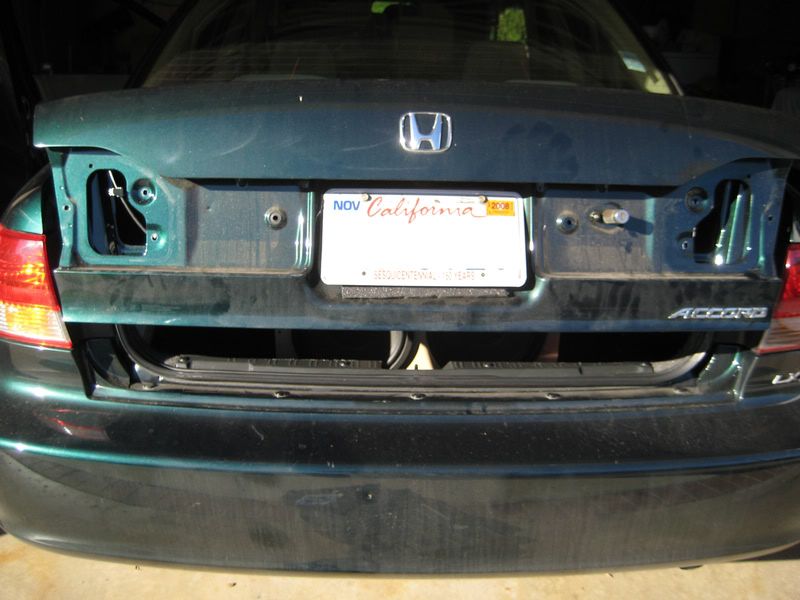 Cleaned it up a little bit.
04-20-2008, 07:38 PM
Join Date: Apr 2008
Posts: 113
RE: '01 Accord Sedan Complete Car Audio Install
---
Applied Spectrum.
I added some 3/4" foam tape, but I'm going to replace it since it makes the lights stick out a tiny bit, just a few mm. I might use some Ultra Kill or Rattle Pad or even strips of Damplifier.
Completed picture, looks like nothing was done
Also, now that I have the time and I have nearly a full gallon of spectrum leftover, along with putting more of it on the rear deck, trunk lid, and such, I will put a couple layers on the front doors and maybe a layer or two on the rear doors. Rear doors don't have any deadener, but they could be deadened to reduce some road noise. I think I will also order another 20 sq. ft. of Damplifier and some Rattle Pad or Ultra Kill.
04-21-2008, 01:22 AM
Join Date: Apr 2008
Posts: 113
RE: '01 Accord Sedan Complete Car Audio Install
---
I don't have that enclosure anymore, gonna change it anyway so it fires into the cabin, still gonna be sealed, but SQ was amazing. Low end is just crazy. I used to prefer ported but I think I'm more of a sealed guy now because some of the music I listen to gets real low and there are a couple bass songs that go down quite low, down to 14 Hz and it's neat to see what it's doing to the car. The windows flex like crazy, the door panels get pushed towards the people sitting inside, the bumpers flex and 100 ft away my neighbor's garage door is rattling.

I used to be a bass head and at times I still am, but for normal listening the 18 is very accurate and keeps up as good as good as the IDQ 10's and Focal 10's I've owned. I put the sub in 2.5 cubes sealed and ran it off 1,000w and it was a huge difference, and I didn't like it much. It really needs more power. A larger enclosure would definitely help as well. Hopefully the 3 - 3.5 cubes will be enough for it to satisfy what I want.

04-21-2008, 01:34 AM
Join Date: Apr 2008
Posts: 113
RE: '01 Accord Sedan Complete Car Audio Install
---
This is how much Spectrum I have left...more than I thought
Decided to do the rear doors. Originally I had mentioned I would post a pic of what the front doors looked like, well it is exactly how this one looks.
Took the plastic cover off and you can see 7 years of dirt, ew!
This is the sticky residue, kind of like a sticky dough.
Cleaned the door and took off as much of the sticky residue without spending too much time on it since it really doesn't matter.
All dried up after 1 layer
I ended up doing one more layer on the inside of the door. I noticed that it did help a little, I haven't driven the car yet, but I'm sure road noise will decrease as well.
Decided to do the front door. This picture is with 1 layer of Spectrum. I did 2 layers but forgot to take a picture after the 2nd layer was on. It looks much better with the 2nd layer.
Not sure how those two layers will help, probably will elimante some road noise, maybe not, I just did it for the heck of it.
Here is underneath the rear seats, quite dirty as you can see.
04-21-2008, 01:39 AM
Join Date: Apr 2008
Posts: 113
RE: '01 Accord Sedan Complete Car Audio Install
---
Vacuumed and cleaned with a damp towel.
And one layer applied.
I might do another layer, but for now I want to save for what is more important, like the top and bottom of the rear deck, trunk lid, hood, and tire wells. If I have any leftover I will go over the bottom of the rear seats and anything else I come across. I have also put expanding foam in the rear quarter panel and it help ALOT! I do not have pictures, but once I take the panels off in the rear I will take some quick photos. I plan to put expanding foam in the C pillars sine they are pretty dense. I'm supposed to pick up the Zapco's today so hopefully they'll be there when I pick up
. Pics of those will be up possibly tomorrow, but Sunday for sure.