1996 Honda Accord Sub install
12-28-2010, 03:53 PM
Join Date: Nov 2009
Location: Littlerock, CA
Posts: 277
1996 Honda Accord Sub install
---
So, today I got bored of seeing my basic system sitting in my Toyota (that's not running). So I woke up today and decided to drop it all into my Honda.
Here is how it all started
Started out by gutting out the trunk, only left one spare tire and one container of water.
The sub was in my toyota celica, so only problem i was afraid of having was all the wires being to short for the honda.
The Yota
Sub is a 12' Kicker Comp
Amp is a 500 watt Crunch
Since my car didn't have carpet or flooring to begin with, I simply cut a piece of old plywood and put some carpet over it
Once I secured the wood, I put the sub and box in to see how I was going to set it up, luckily, the box cleared the rear speakers.
this is just a little fun pic I took of the amp, wires.
I put the power cable through the firewall, right were the ecu cables come out. PITA to get past that dumb seal.
Once though, it ended up under/ behind my glovebox.
Wire tucking
[IMG]http://i263.photobucket.com/albums/ii146/ecastillo653/Honda%20pics/Picture348.jpg[/IMG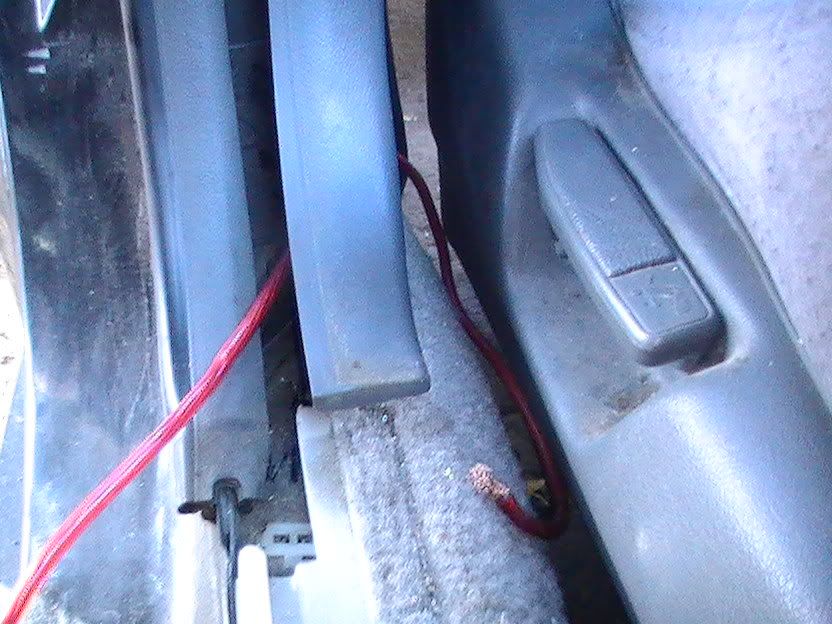 So now time to run the Rca's and Remote wires.
I got side tracked because apparently the freaking remote on the stereo doesn't work, So i had to search for a hot wire. I ended up just using the 12V that goes to the stereo. And it worked
And the finished product
I know this isn't a write up, but I can make one if anybody requests it.
Here is a video, the mic on my camera sucks so it doesn't do it justice.
http://www.youtube.com/watch?v=jUn8qrGhcbw
Enjoy.
12-29-2010, 12:36 PM
---
a few comments:

when routing wires through the firewall, you need to maintain any factory watertight seals, and prevent power wire insulation from touching metal. with your routing, you compromise both. next time, make a small slit in the rubber boot and slide the wire through there, so the seal can remain in place. i assume you have an inline fuse at the battery connection and used ring terminals to secure the power wire to the battery.

when mounting an amp, makes sure mounting screws are into solid material so the amp cannot move. i also do not recommend screwing an amp directly to car metal.

when locating a sub box, use L-brackets to hold the box to the false floor so it cannot slide around either.

i noticed you converted a dual full range box into the box you are using. i assume the second opening is not just covered with carpet. i recommend eliminating the small port tube and tweeter, and making a new board to cover the front of the box that seals up all existing holes/openings. do a volume calculation and determine what the new tuning frequency should be with the total box volume (both sides). then cut out the middle divider and make a new port out of 3" PVC tubing, using an elbow to gain port length. you'll be amazed at how much you'll get out of that box/sub combo with minimal effort and cost.

when you use switched 12V at the radio for a remote turn on (make sure it is indeed switched 12V and not constant 12V) you want to add a toggle switch so if you ever need to turn off the head unit while the car is on - you can turn off the amp first. always remember Amp Off First, Amp On Last. this holds true for all audio platforms (car/home/pro).
Thread
Thread Starter
Forum
Replies
Last Post