Auxiliary Input for 2000 Accord
03-24-2015, 03:38 PM
Join Date: May 2007
Location:
Posts: 47
Auxiliary Input for 2000 Accord
---
I have a 2000 Accord LX and Iíve been using an adapter with the OEM cassette player as an auxiliary input to connect my MP3 player to listen to podcasts and music. The cassette player option is no longer working. I know I can replace the head unit but Iíve always like the way the OEM unit sounds. Itís much better than the Clarion unit I put in my sonís car and the one in our 2012 Rav 4. I donít want to spend much (max $100) because the car is 15 years old with over 200k miles on it. Iím afraid a budget unit wonít sound as good as the original one. Iíve seen on Amazon and eBay an auxiliary input that plugs into the back of the original head unit CD connection. Does anyone know if my 2000 unit (Cassette but no CD) will have that plug? Has anybody else done this and what were the results? Thanks in advance.
03-25-2015, 01:40 PM
Join Date: May 2007
Location:
Posts: 47
---
Here's something I found on the Crutchfield site
(
1998-2002 Honda Accord sedan car audio profile
):
If the radio has a button labeled "CD," and the radio does not have a built-in CD changer, you can add one of several different interfaces that will add an auxiliary input or let you connect your iPod.
I have a "Tape/CD" button so I don't know if that qualifies. I guess I'll have to pull it and see if there's a plug on the back.
Does anybody know what the power output is on these OEM head units? The replacements in my price range max out at 22 watts so I'd like to know if that's less, more or around the same. It's possible the good sound quality come more from the speakers/enclosures than the head unit.
03-25-2015, 09:13 PM
---
power is about 5-10watts, same as any aftermarket. while the aftermarket says "22w" you'll never see that because that's at very high distortion. the amplifier chip is about the size of a quarter regardless. Panasonic makes the factory head unit and back then, Panasonic made a decent product.
This is what the inside of a head unit looks like, the 25-pin vertical chip on the right is the 4 channel amplifier.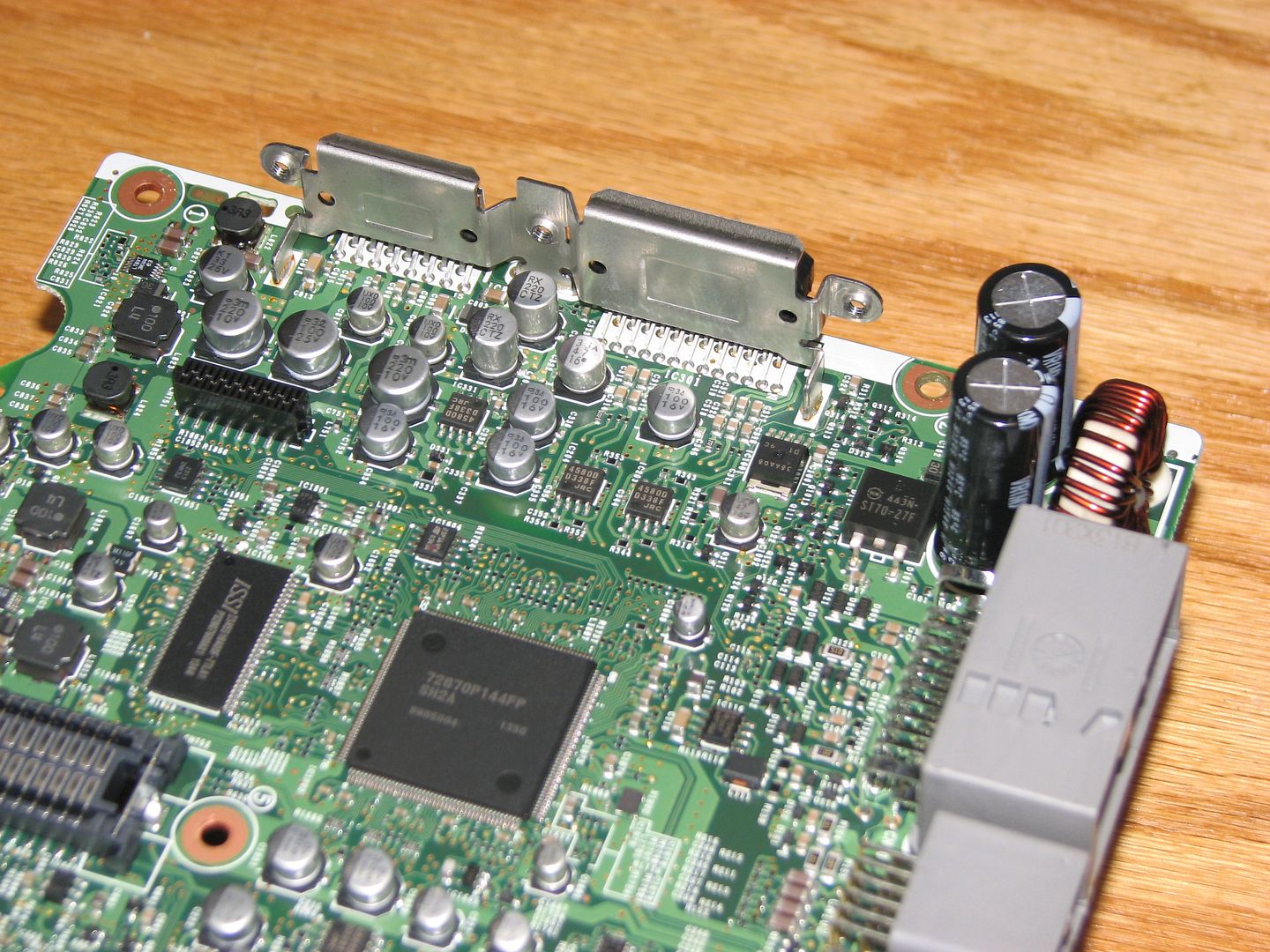 penny for scale
the car sounds good because the factory speakers are actually decent, not because the head unit is great. an aftermarket head unit will greatly outperform the stock. and you can add bluetooth for hands free calling.
Kenwood KDC-BT318U CD receiver at Crutchfield.com
Kenwood DPX301U CD receiver at Crutchfield.com
Crutchfield provides free mounting kits and wiring.
you can find adapters the use external CD changer inputs and they work fine. certainly, they sound better than cassette adatpers. just avoid FM Modulators.
03-25-2015, 09:19 PM
---
03-26-2015, 07:57 PM
Join Date: May 2007
Location:
Posts: 47
---
I took the radio out tonight and it does indeed have a 14 pin connector. I found something on Amazon that I think should work and is a reasonable price, though I don't really need the iPod connection (I have Android).
Amazon.com : Honda iPod iPhone 3.5mm Adio Input Auxillary Aux Adapter Integration OEM Factory Stereo Radio : Vehicle Audio Auxiliary Adapters : MP3 Players & Accessories
03-27-2015, 08:26 PM
Join Date: May 2007
Location:
Posts: 47
---
I decided to go with a new head unit (
Kenwood KDC-BT362U CD receiver at Crutchfield.com
). The aux input adapter was coming from Hong Kong and was going to take a month to get here. I also wasn't that comfortable with the quality. If the new head unit outlasts the car, I'll pull it and put it in another vehicle. Thanks keep_hope_alive for the help.
Thread
Thread Starter
Forum
Replies
Last Post
PRIVATE For Sale / Trade Classifieds