Quick and Dirty Trunk Rattle Minimizing
02-27-2009, 10:45 PM
Join Date: Feb 2009
Location: Pennsylvania
Posts: 67
Quick and Dirty Trunk Rattle Minimizing
---
Okay.. so i set out to make my trunk a bit less noisy when my system thumps..
spending as little money as possible.. and spending as little time as possible.. i was able to come up with a decent solution that eliminated about 80% of the noise i was getting when outside the car.
So i decided to write up a little post about what i did.. with pictures!
Now keep in mind i own an 02.. so 1998-02's apply mostly to this.. but should also apply to other years with similar characteristics
Okay so first thing to take car of on the list.. the Tail Lenses.. from tapping/pounding on the lid with my fist i was able to determine quickly the tail lenses attached to the trunk lid made some noise.. so that was first on my list.
Click images to view larger.
First thing's first.. grab an 8mm deep well socket and appropriate ratchet... i chose to use my 1/4" drive as these aren't too hard to get off.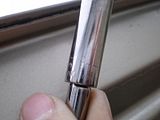 Then Proceed to remove the nuts holding the lenses on.. same thing per side.. just mirrored.. 6 total (3 per side)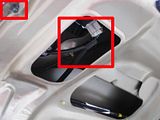 After a little wiggling and some light pulling pressure they pop right off.
Okay sow now it's time to take them inside where it's warm and make them not rattle anymore..
First you want to clean them up with some soap and water and dry them off cause they're probably a little dirty.. even if they don't look it.. do it anyway.. any dirt at all or oils will inhibit the adhesive from sticking
eww dirty
After they're all cleaned up.. apply the noise stopper.. i chose 3/16" foam weatherstripping.. it's thin enough to not really affect the fit.. but thick and squishy enough to keep them from hitting plastic on metal.. which is what we want..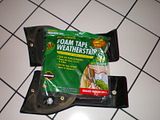 After the weatherstripping has been applied, you should now be ready for re-installation and be pleased with a fair amount less rattling already!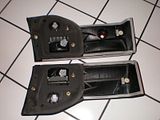 As you can see Honda was smart and used some rubberish foam on the part that contains the bulbs to keep water out... this also acts as an isolator.. so the only part that needs modified is the other "side" of the lens that is held on by a pop clip(like the trim tabs for the door panels)
Okay so now you're happy that those don't make noise anymore.. but there's still an awful lot of rattle from that trunk lid..
Well.. I'm not sure of the exact explanation.. but i do know it comes mostly from the bottom of the trunk lid in the center.. right behind where the lock mechanism is... hmmm.. what can we do about that...
This is what i did.. it actually reduced that areas noise alone by at least 50%
First remove the little plastic panel right inside the trunk there.. the one that covers the latch post..
Start by removing the little trim tab screw retainer units that keep it in place.. from there it's just a matter of getting the trunk floor lifted up enough and wiggling it out..
Now i may have gone a bit overboard on this.. but like i said it helped enough to make it worth it.. and most of it isn't visible
This is the part that is visible.. i wish i had 3/16" in black.. but oh well.. if you look close you can see there is also 5/16"(which is black) on the "top" part of this.. where the lid would "meet" it.. and small strips in the areas where the factory rubber isolators didn't seem to to much of anything..
back side
as you can see i put a fair amount under here.. i noticed it moves a bit and makes a fair amount of noise on it's own i'm sure.. so i figured it couldn't hurt.. if you look close you can see i used small sections folded over the little "points" that stick out to help isolate those as well..
All in all this has reduced my trunk rattle by about 80% i'd say.. and after i adjust the trunk latch it should go away even more... i think what i'm going to do is remove the short sections that are directly under where the factory rubber isolators would sit on the plastic panel.. and adjust the trunk latch until they hit again.. i'm sure they used to at one point.. but they don't now... i verified this by climbing in the trunk with a light and shutting the lid on myself and examinging/feeling around the area..
i also noticed that the trunk seal didn't really seal at all on the bottom.. perhaps just worn out a bit... but when i did pull the lid down towards the floor.. it made contact and so did the rubber things..
Now i will say that not ALL of that area's noise was particularly caused by the trunk lid moving up and down.. the reason for the 3/16" foam under where the latch would sit at is because i'm pretty certain it was flexing enough for the latch assembly to hit the plastic panel.. like i said.. weatherstripping the plastic panel alone reduced a significant amount of noise.. a little adjustment and some Dynamat or similar.. and there should be no more noise
Thanks for reading, Hope this helps some more people.
~Moddage
---
Last edited by Moddage; 02-27-2009 at

10:50 PM

.
02-03-2010, 06:34 PM
---
This is great! you should find a friend or relative with an 03 accord or up... I could really use some insulating in the trunk and coupe doors, but don't know where to start. there is so much noticeable rattle in the door and trunk area its unbearable at high volume/ road bumps even. Some simple suggestions would help too. again creative and simple mod, love it!

thanks moddage
austin
Thread
Thread Starter
Forum
Replies
Last Post